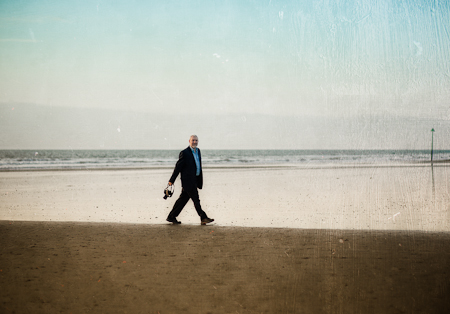 Light, Form, Emotion
Three artistic principles that come to mind when I think about why I am a wedding photographer. Three principles that go way back to my teenage years in Mid-Wales and the start of my working life. I started at age 16 or so training to be a stage and lighting technician and spent four or five years working in theatre and that taught me a huge amount about the visual arts-not just on a stage but in a frame, on paper, on a screen. I left Mid-Wales in the early 1990′s and moved to London and after a couple of years studied for a B.A in Digital Art & Photography at  Thames Valley University. From this I spent a lot of time working in internet design, animation and graphic design.
After a bit of a diversion in the mid 2000′s- a diversion which took me, quite enjoyably, into rare and second hand book dealing (after photography, literature being  my other big passion) – I decided that I needed to get back into doing something creative and felt that whilst photography was always one of my favourite passions I had never given it enough attention work wise. With that in mind I bought myself a new camera and spent some time living in Egypt concentrating on my photography. During this time I photographed ancient temples and sites for magazines such as Egypt Today and Current Archeology Magazine, did some photojournalist work for local papers and websites, photographed various interiors and bars for hotel owners and did numerous portraits of locals and tourists. It was a good all round photographic experience.
On my return to the UK i decided to head back to Wales and settled in, first Cardiff, then Caerleon where I continued my photography work adding fashion shows, live music photography and selling images to magazines such as NME and Mojo whilst being the lead photographer for the SWN Music Festival. I also embarked on an M.A in Documentary Photography at Newport University. Taking stock I decided to narrow my photographic field and to specialise in one area. I chose weddings. I'd photographed a number of friends and relatives weddings in the past and found I really enjoyed them. Weddings are a challenge; they take in so many other types of photography-portraiture, documentary even music and interiors, and I found I loved the bustle and fun of celebration and to document it with my camera. I also loved portraiture and making special images that the just married couples would love. Jump forward to late 2012 and myself, my partner Sarah and our two year old daughter, Matilda Fey relocated to the beautiful Snowdonia National Park and i'm enjoying being a wedding photographer back in Mid-Wales and covering further afield and those three principles still come to mind now and feature large in all the photographs I make..
Light, Form, Emotion
In the summer of 2013 I was very happy to be accepted into the Wedding Photojournalist Association and its fine art offshoot the Artistic Guild of the WPJA.  
These international associations demand a high level of professional conduct and photographic ability  in order to join and i'm extremely pleased  to have got in. Amongst other things it allows me to become part of a group of some of the most inspiring and talented wedding photojournalists in the world.  I'm one of only a very small handful of WPJA members in Wales at this time. As the WPJA says…
"…the WPJA is an international network of vigorously vetted professional photographers whose work is regularly judged by award-winning photojournalists (including many Pulitzer Prize-winners) and news photo editors.  With ongoing curatorial vision the association identifies emerging talent, keeping our talent pool fresh and cutting edge. The WPJA is dedicated to upholding the highest standards in creative wedding photojournalism while promoting best business practices….the WPJA only accepts into membership gifted, honest wedding photojournalists who work tirelessly to deliver excellent photography to their clients."
The Artistic Guild of the  WPJA  is an offshoot that celebrates the more artistic aspect of wedding photojournalism which is a perfect fit for me. Whilst my work is primarily of a documentary nature, I do often take a fine art approach which allows for such things as heavy vignetting, playing with colour, composition etc.